I made some progress scanning documents with my phone, but I began to wonder if it would be worth scanning documents with a traditional flatbed scanner instead. Luckily I still had one in storage to test.
This is part one of a two part series comparing a flatbed scanner to smartphone camera. In part two, I cover scanning printed photos.
Flatbed Scanner Specs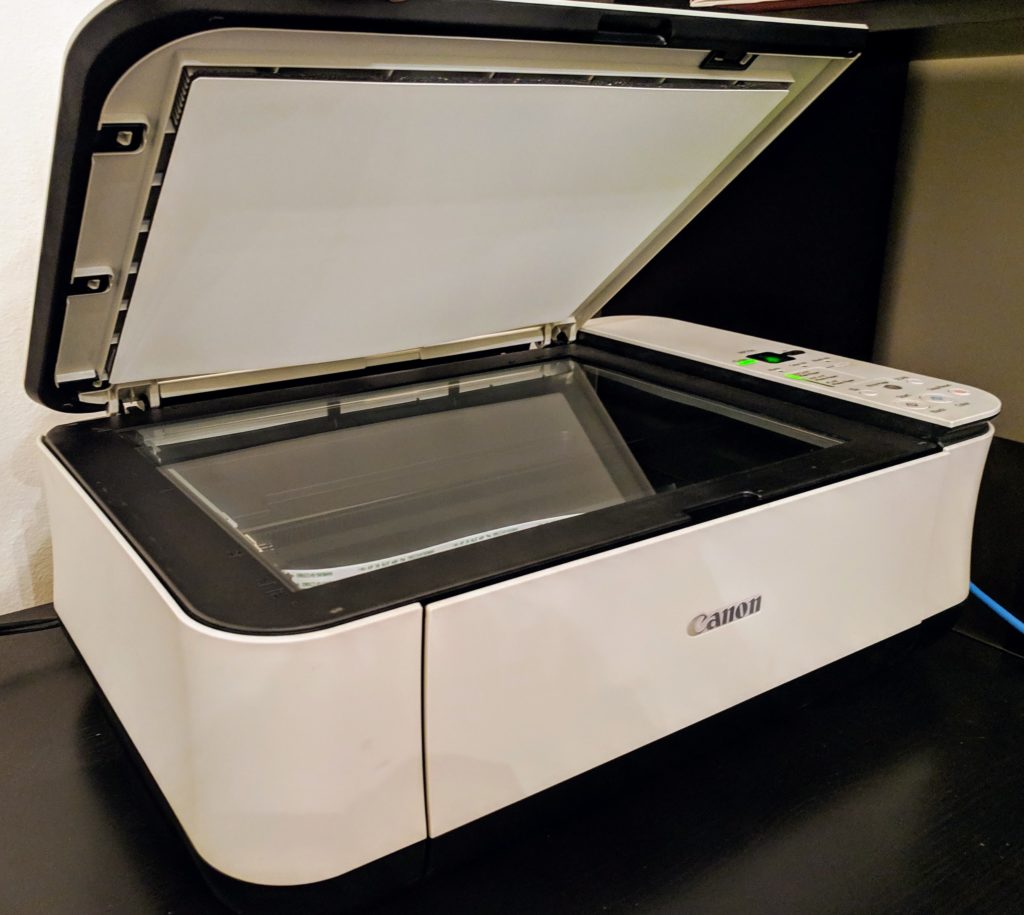 My all-in-one printer came out about 9 years ago, weighs a hefty 12.7 lbs, and has clunky dimensions of 17.5 W x 13.1 D x 6.1 H inches. But the scanner works perfectly and scans at a resolution well beyond the 300 DPI we need. I found the original specs posted on the Canon website:
Scanner Type
Flatbed
Scanning Element
Contact Image Sensor (CIS)
Max. Resolutions
600 x 1200 dpi (Optical)
19,200 x 19,200 dpi (Interpolated)
Scanner Features
Gutter Shadow Correction, Push Scan
Color Depth
48-bit internal, 24 bit external
Max. Document Size
8.5 x 11.7
Text Document
I'm using a life insurance offer sent to me as a sample because it's a close approximation to typical documents I archive and doesn't have a lot of personal information on it (some text has been blurred out). Although, it's not a document I'd normally save.
Flatbed Scanner
Overall contrast is even, but a little too bright and washed out looking. Text is as sharp as the original document, what we were expecting.
If we look over at some empty space one major flaw becomes more obvious. The text is bleeding from the reverse side of the document even though the paper doesn't feel thinner than common 20 lb printing paper. My scanner doesn't seem to have any setting to correct this, maybe a more expensive newer scanner might but I'm guessing this is a typical issue across flatbed scanners.
Pros

Highest resolution
Flattens out document to remove distortion and provide consistent contrast

Cons

Can appear more washed out
Text on back of paper can bleed
Less portable, requires dedicated hardware
Slower
Smartphone Camera
This was taken using a Google Pixel and minimal editing applied. There are many scanning apps (I plan to cover later) that will automate this editing but I wanted to minimize variables for the test.
You can see some text detail is lost but it's minimal and still very easy to read. The contrast actually looks better than the flatbed scanner, but it's uneven. This is good enough for archiving purposes.
The biggest problems are dealing with distorted aspect ratios and shadows from uneven paper. If we zoom in we can see some creases caused shadows I wasn't able to remove with minimal adjustments to contrast and exposure. Also, the top corners of the original document are slightly bent causing the image to appear warped.
Pros

Portable and quick, can scan and toss original document immediately wherever you are
Good enough for most text documents

Cons

Subject to current environment lighting, can cause uneven contrast
Image can appear distorted or warped, especially if the document isn't completely flat
Doesn't provide highest resolution, very close up detail lost
Conclusion
For most people, a smartphone camera is an adequate solution for archiving text documents.
If you have a modern smartphone with image stabilization, taking pictures of documents is more practical for the majority of use cases involving basic text where minute detail lose is acceptable. It's also the cheapest (assuming you already own a smartphone), simplest, and fastest solution. On the other hand, you're better off using a professional flatbed scanner if very fine details are important to you.